We pick out five creatives, who will be exhibiting their work at this year's London Illustration Fair on London's Southbank.
The London Illustration Fair is returning for the fifth time with a showcase of work from more than 55 exhibitors.
The four-day fair, which is spread over five floors at the Bargehouse at the Oxo Tower on London's Southbank, will include plenty of stalls with prints and artwork for sale, as well as workshops, talks and masterclasses.
More than half of the artists and designers taking part will be displaying their work at the fair for the first this year so there is plenty of fresh talent to look out for. Here are some illustrators to check out at the fair.
Adam Latham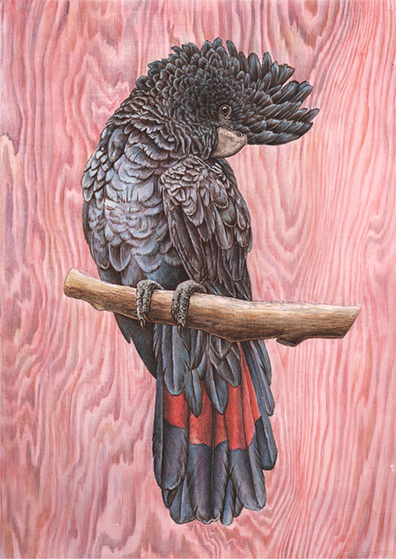 © Adam Latham
Adam Latham's recent works have been created with Indian ink fine-liner pens and watercolour paints combining "observational drawing with a technique akin to cartooning". Pieces include brightly-coloured images of birds and animals and drawings of people from different cultures.
Co-director and event Coordinator at the fair, Alastair Eland, says: "Adam's work is incredible. The detail and the uniqueness set his work apart from what we often see. His style would be more akin to fine art with a distinctive and mature style focusing on natural history, anthropology and death complimented with a bizarre, hypnotic combination of textures, colour and form."
Latham, who lives in east London, studied fine art at Byam Shaw School of Art and then did a Master of Arts degree (MA) in painting at the Royal College of Art (RCA), but says he has become more interested in illustration. Until 2014, he was part of a performance group known as Skinjobs alongside artist Richard Wilson. They put on shows at a range of galleries and created a musical called A Short Play in Black and White.
For more information about his work, head here.
Alec Tear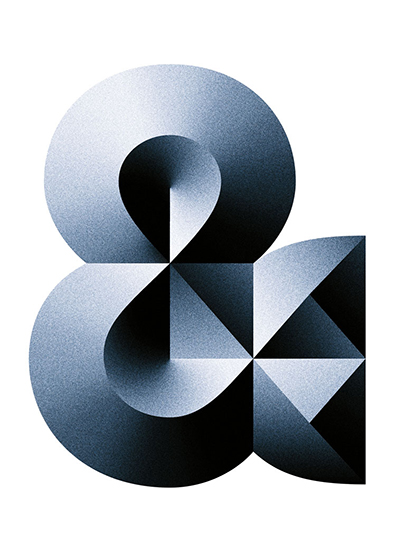 © Alec Tear
London-based lettering artist Alec Tear describes his work as "upbeat", "colourful" and with "a twist of visual wit". His typographic work covers a range of styles and will be presented as prints, apparel and cards at the fair, with phrases such as "why tho" and "good vibes" appearing in his designs.
Eland says: "Alec has an ability to look at a symbol or word and bring it to life in creative new ways by seeing its potential. He's playing with the sound of the word, the form or the interpretation of the texts, to make amazingly vivid and striking designs."
Tear's past work includes lettering for fashion designer Brandon Maxwell, which launched at New York fashion week, a logo for a street food company called Backstreet Diner and graphic business cards.
For more information about his work, head here.
Barbara Malagoli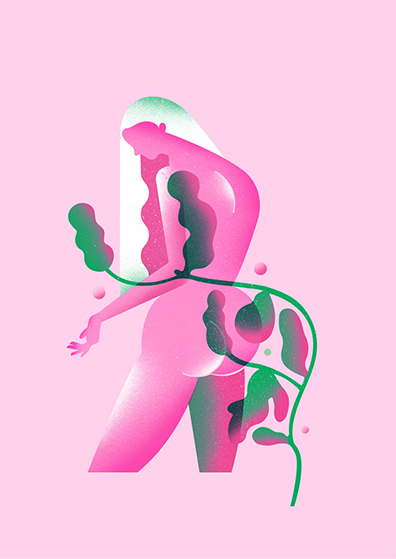 © Barbara Malagoli
Much of the work by Brazilian-born, London-based illustrator Barbara Malagoli features the female form, often presented in a colourful, sensual, semi-abstract way. She has created illustrations for a wide range of clients and platforms such as digital images for Valentine's Day for Facebook in Brazil, colourful backgrounds for handbag shoots for Glamour magazine also in Brazil, and bottle packaging illustrations for Brazilian alcohol brand Sagatiba.
Eland says: "What I love about Barbara's work is the simplicity of the shapes, colours and textures she uses to create beautiful editorial works of design. They translate perfectly into eye-catching works of art while maintaining style and class."
For more information about her work, head here.
Julio Guerra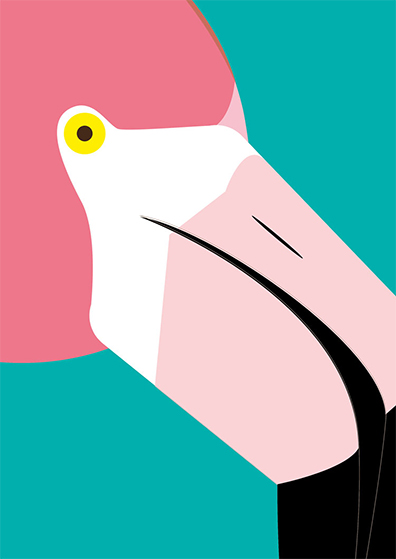 © Julio Guerra
Venezuelan illustrator Julio Guerra, who lives in London, studied graphic arts as well as sociology in Venezuela, before going on to Central Saint Martins. The designer, whose work includes bright, colourful graphic images, says his sources of inspiration include our relationship with the environment, as well as modern fashion and culture.
Eland says: "Julio will be exhibiting a range of colourful bird portraits in a distinctly bold graphic design style. To me, he is an artist perfectly balancing minimal elements and bright contrasting colours to create something incredible… and enjoyable."
Guerra's work includes a series of graphic images of London landmarks such as Battersea Power Station, the Lloyd's building and the O2 arena, presented in bright, contrasting colours. He has previously had his work displayed at the Cruz-Diez Museum of Print and Design in Caracas, Venezuela's capital.
For more information about his work, head here.
Billy Clark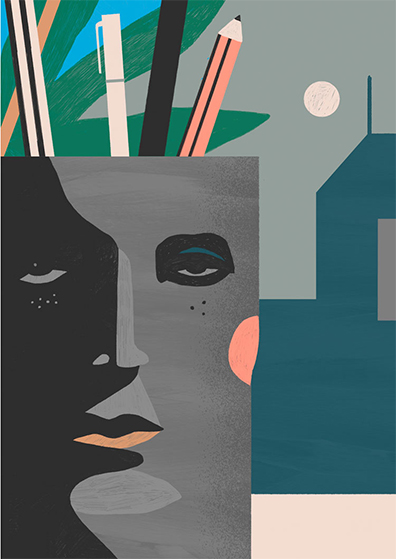 © Billy Clark
Illustrator and designer Billy Clark, whose past endeavours range from illustrations for national newspapers to film posters, has designed marketing imagery for this year's London Illustration Fair and created a range of images and merchandise exclusively for the event.
Eland says: "Billy is an artist we have had our eye on for a few years. His style is bold, bright and geometric yet his images convey a depth combining a great balance of geometric forms, texture and mood."
Images of people and faces regularly feature in his work, with blocks of colour and contrasting darker tones often used.
He has created work for clients including Liberty London and Proper Corn, illustrated catwalk looks from Paris Fashion Week by designers such as Alexander McQueen for Port magazine, and drawn imagery for newspapers including The Guardian and the Financial Times.
He studied graphic design and Illustration at Norwich University of the Arts.
For more information about his work, head here.
All the artists featured above, along with five others, have been chosen to be featured in an exclusive A4 print pack available to buy at the fair. 
Other illustrators to check out:
Eglantine Vittu is a French illustrator who creates colourful, cartoon-like designs and animations using traditional techniques such as paper cutting and using gouache paint. To find out more about her work, head here.
Yoana Puleva, a final year illustration student at the University of Westminster will be displaying ceramics, fabric prints and stickers at the fair, taking inspiration from nature, "imperfections" and "abstractions". To find out more about her work, head here.
Arnelle Woker, a South African designer who lives in London, created vibrant, colourful patterns for products such as wrapping paper, notebooks and tote bags. To find out more about her work, head here.
The London Illustration Fair runs from 30 November to 2 December 2018 at the Bargehouse, Oxo Tower Wharf, Southbank, London, SE1 9PH. For more information, head here.
This article is written by Alina Polianskaya and appeared here.
All the images are collected from here