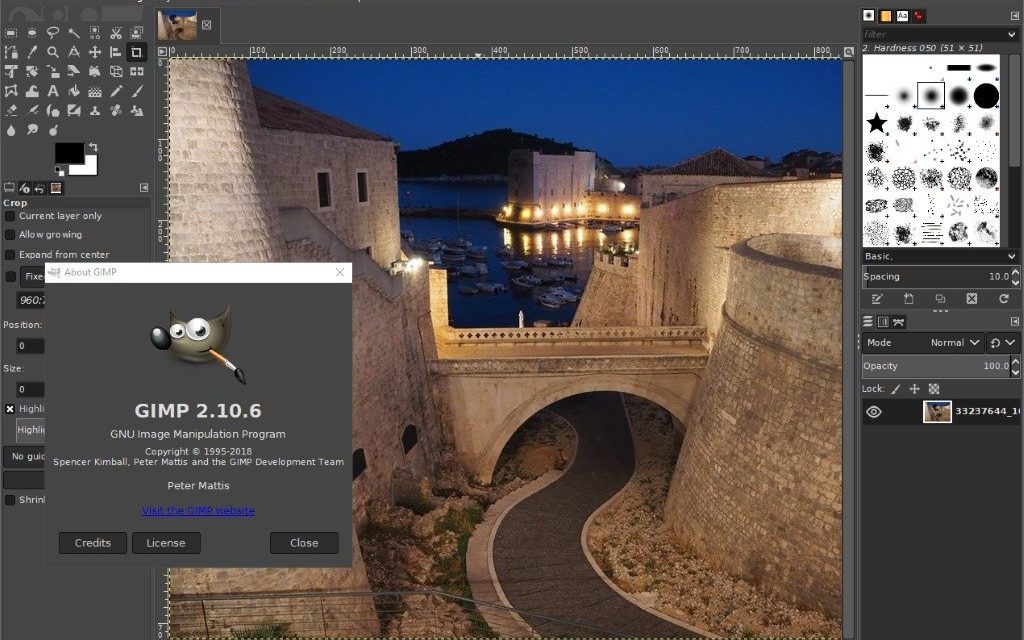 Photoshop is the market leader for professional photo editing and design work, and deservedly so, but its dominance in the professional world means it is quite expensive to use.
In recent years Adobe has shifted to a subscription-based service, which does make it reasonably affordable but for some, this price is still too high. This is especially true if you don't make a living off design work, or only occasionally need to edit photos.
If you do make a living from any form of design work, or perhaps you are an aspiring Instagram Influencer, then I think a Creative Cloud licence is worth it. You can get a year's access to Photoshop and Lightroom for about £100 on Amazon, and this provides access to the desktop and mobile apps plus online storage. Due to its popularity, there are a huge number of Photoshop tutorials online that allow you to learn the basics onwards to mastering the app. Mastering Photoshop can help with career prospects too, as many companies will use it over the free alternatives below.
However, £100 per annum is very expensive for beginners or the occasional use, so what are the best free alternatives to Photoshop?
Gimp
It wouldn't be a Photoshop alternative list without mentioning GIMP. This has been the go-to open source image editor for years, and it is still a great choice. This can do almost anything that Photoshop can.
The full suite of tools is available here – everything you're accustomed to is within easy reach, including painting tools, colour correction, cloning, selection, and enhancement. The team that oversees development has worked hard to ensure compatibility too, so you'll be able to work with all the popular file formats without any trouble at all. You'll also find a very capable file manager built in, similar to Adobe's Bridge.
Photo Pos Pro
This is one of the best alternatives to Photoshop but the free version is limited to the file size of saved images; therefore this is the second option after GIMP. This has options for dual interfaces one for amateurs and another for advanced users. The novice option puts one-click filters and automatic adjustments at the forefront, while the latter closely resembles Photoshop.
The overall design and user interface is nicer than and more user-friendly than GIMP making this a very appealing option.
Photo Pos Pro offers both layers and layer masks, as well as superb clone and healing brushes. All the expected colour-refining tools are present and correct. There's support for batch-editing and scripts to save time on routine tasks, you can import images directly from a scanner or camera.
Photo Pos Pro offers plugins in the form of extra frames and templates, and you can create and save your own filters for future use.
If you find you like the program but want access to unlimited file sizes then the premium edition only costs £25 which is a massive saving compared to Photoshop.
Photopea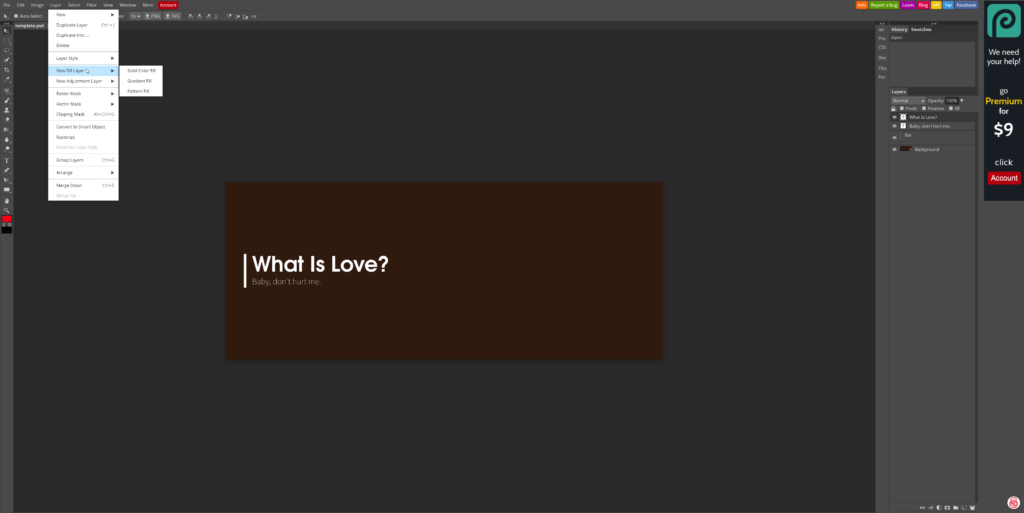 This is a web-based app, and I think it is worthy of mention just because a single 28-year-old developer in Prague develops it. He recently did an AMA on Reddit and has implemented a lot of the suggestions he received. He has put over 7000 hours fo work into developing the app which is around 5 hours a day over 3.5 years before adding advertising to his site. In October of last year, the site received around 1.5million visitors.
It is actually a great app too (hence its popularity). Photopea can load popular formats, such as PSD, Sketch, PDF, and SVG which Gimp cannot load.
In terms of features, Photopea offers the Spot Healing brush, Quck Selection, Refine Edge tool, and Liquify filter.
Pixlr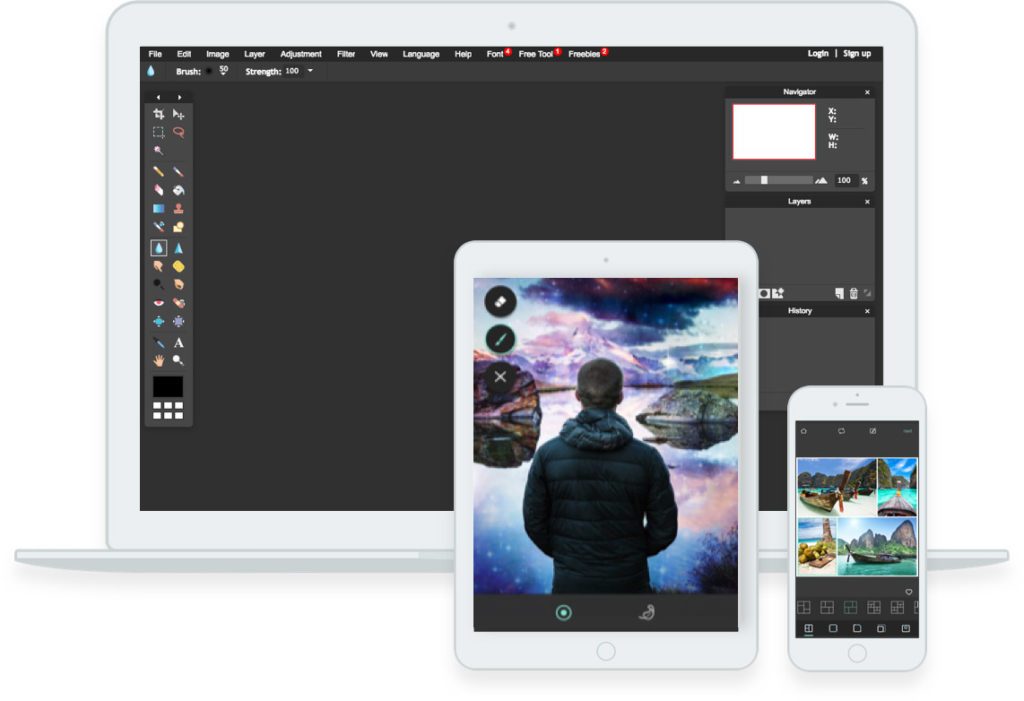 There is no desktop for this app, but you can use the web app and it is available on iOS and Android.
Pixlr is a free Photoshop alternative that boasts more than 600 effects, overlays and borders. It also lets you do all the main things you'd expect from a basic photo editor, from cropping and re-sizing to removing red-eye and whitening teeth.
Paint.net
This isn't as feature-rich as Photoshop or GIMP, it is more a step up from the basic Paint you find on windows.
For many people this is more than enough, it has a good range of selection tools, support for layers, and adjustments such as curves and brightness/contrast mean that Paint.net is a great alternative to Photoshop for photo editing.
More often than not this is the tool I load up for quick editing of pictures due to the fast load time compared to Photoshop.
Adobe Photoshop Express
For basic editing, you could opt for Photoshop Express which provides a slimmed down but familiar interface to the fully featured Photoshop. Sliders enable you to adjust contrast, exposure and white balance of your photo dynamically, and there are automatic options for one-click adjustments.
It is severely limited with its functionality as there are no layers, plugins, or brush tools, and you can't crop or resize your pictures. However, it is very good for tweaking photos before sharing them on social media.
This article is written by James Smythe and appeared here.
All the images are collected from here.